This Conservative City Built a $132 Million Park Using One Weird Trick
---
This Conservative City Built a $132 Million Park Using One Weird Trick
Oct 11, 2019
By Zach Mortice
Read More:
https://www.citylab.com/design/2019/...ps-tax/599701/
Quote:
.....

Oklahoma's capital wanted a bustling, active city center that would attract and retain large corporations and the people who would staff them. But the city had mostly been a luckless suitor. Foreshadowing the Amazon HQ2 cage match, in 1991, after a 21-month bidding war, United Airlines rejected Oklahoma City for a $1 billion dollar maintenance facility that instead went to Indianapolis, on the basis of its superior quality of life and urban amenities.

- The city was "desperate," says Oklahoma City Mayor David Holt, a Republican. Land values were low, and there was no one downtown. "We realized we didn't have any of the amenities of a great American city." Even with a metropolitan population of over 1 million, Oklahoma City felt like it was punching below its weight. "We felt like America's biggest small town," says Holt. — The answer, in one of the most conservative states in the nation, was to raise taxes. Civic leaders developed the MAPS (Metropolitan Area Projects) program, a series of limited-time, one-cent sales taxes, which have brought in a total of more than $1.5 billion.

- MAPS has paid for convention centers, sports arenas, transit, and more, with a strong emphasis on developing the city's center. Its most recent achievement is the new Scissortail Park, named for Oklahoma's state bird, the scissor-tailed flycatcher. Opened in late September, the park is a new civic front yard on the edge of downtown, framing views of the city's skyline with its concert stage and broad lawn. — "It's an aspirational park, in that it's the kind of amenity that people in Oklahoma City used to imagine only existing in other places," says Holt. The $132 million park was designed by the landscape architects Hargreaves Associates.

- As a gathering space in the heart of the city, Scissortail Park aims to find a large and diverse audience with a wide range of features and landscape types. Pedestrian and biking paths alternately curve or slice across it, though nearly everything orbits the park's ovular great lawn and concert stage venue. — The park's northern edge, bordering downtown Oklahoma City, is its most urban and connected, with a boulevard planted with lines of London planetrees. Along this edge is an entrance pavilion and café that marks the beginning of the park, designed with subtle references to the history of settlement and colonization in Oklahoma.

- The linkage of downtown to the river via a park is the long-running manifestation of the Core to Shore plan, which Hans Butzer, a partner at Butzer Architects and Urbanism and dean of the architecture school at the University of Oklahoma, proposed more than a decade ago through a series of studio exercises focusing on Oklahoma City urbanism. — Working with city planners, his students identified many of the key infrastructural revisions that would come to define the park space, setting up civic conversations that would encourage residents and leaders to "start to dream a bit," says Hans Butzer.

- MAPS 3 (which funded the park) raised $777 million with a tax that ran from April 2010 to December 2017, slowly but surely providing debt-free financing for streetcar services, a convention center, streetscape projects, the park, and more. The MAPS program has an established record of investment in Oklahoma City's civic center, but it's not perfect. — Sales taxes are regressive, meaning that they penalize poorer people more than affluent ones, because poorer people spend a larger percentage of their income. Asking voters to explicitly approve each tax doesn't allow for a reliable funding source. And much (though not all) MAPS spending has been laser-focused on the city's downtown.

- But a wider test is coming for MAPS. In December, the city will ask voters to approve the largest MAPS package yet, $978 million dollars for what Holt calls "neighborhood and human needs." This includes mental health services, homelessness, and domestic violence funding. — Scissortail Park is among MAPS's most democratic offerings. It's notable that Skydance Bridge was completed a full 7 years before the park, when the surrounding neighborhood was a disused warehouse district. Without the long track record of MAPS, it might have ended up as a literal bridge to nowhere, the kind that lawmakers enjoy lambasting as a feckless waste of public dollars.

.....
An overview map shows the recently completed northern portion of the park (foreground) linking to the future southern section and down to the Oklahoma River, via the Skydance Bridge, which spans Interstate 40. (Hargreaves Associates)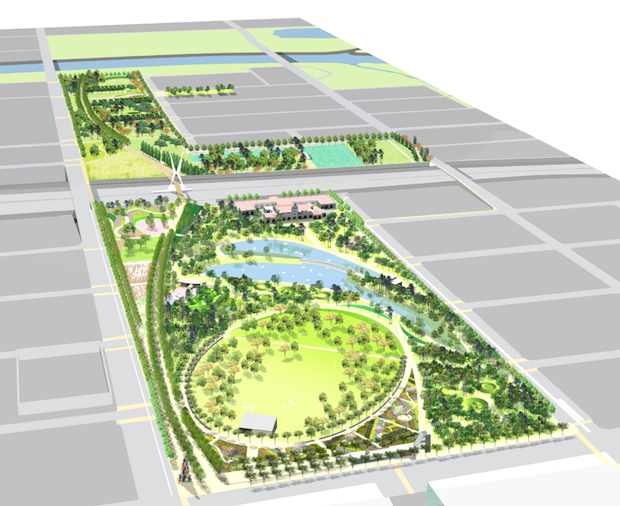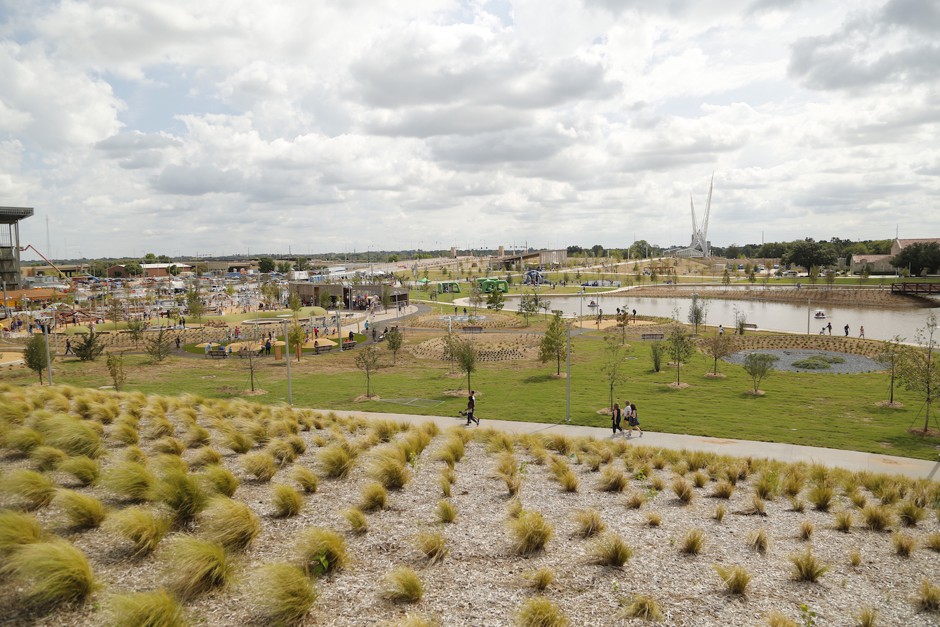 __________________
ASDFGHJK