Sheikh Zayed Mosque, UAE:s largest mosque and a big tourist attraction, in Southeast Abu Dhabi. More of this will be presented later.
ABOUT Abu Dhabi

Abu Dhabi is the capital of the United Arab Emirates, and the second largest city. Abu Dhabi is also the largest of the seven emirates. It is situated on several islands right next to the Persian Gulf, with a shoreline along Corniche Lake. It is a very glamorous city, with shiny new supertall skyscrapers, wide boulevards, large highways, luxury hotels, malls, beautiful parks with palms and a very nice and long beach right in downtown with a beautiful beach walk called Corniche. Since the royal family lives in Abu Dhabi, that also is the political power of UAE, you find numerous huge royal palaces, some of them only temporary residences and one under construction that will be the largest residential building in the world. Just like Dubai, Abu Dhabi is a city where you find very futuristic and innovative architecture, many world records and some of the buildings are among the tallest in the Middle East. You can also find the largest and most beautiful mosque in the UAE, the only one open for tourists. Many more projects and skyscrapers are under construction or planned for the future!

Abu Dhabi, that means "father of gazells", is a very new city, and one of the world's fastest growing, about 70 years ago it was only a small fishing village! Before the discovery of oil in 1958, pearl trade was the main business. Large parts of the city is situated on islands, and it is a very spread out city with urban sprawl and long distances between the attractions. In 2007, Abu Dhabi was stated the richest city in the world!

MY EXPERIENCES

We visited Abu Dhabi as a half daytrip with a guided tour from Dubai.

I found Abu Dhabi more beautiful, wealthier and greener then its big brother Dubai. Abu Dhabi is actually a richer emirate then Dubai, and Sheikh Khalifa, that is also the president of the UAE (and has named Dubai's Burj Khalifa), has spent a lot of effot on making the city green. There were even artificial woods outside the city, in the desert! So I wish we could spend more time there, but the tour was very short. Just like or even more then Dubai, you get an artificial feeling when visiting the city, almost like a computer made charmless but very good looking utopia, especially since the city is also very clean and the crime rate is very low.

We were caught up at our hotel in Dubai by a white minivan of older model on a Monday morning. The guide was really nice and experienced. He had roots from India and the driver had roots from Pakistan. He actually compared Dubai with Mumbai. We were only six persons in the van together with an older Finish couple.

We visited the impressive Sheikh Zayed Mosque, that must be one of the world's most beautiful newer buildings, Mirage design center (a design arts center for very expensive arts that the salesman wanted us to buy), had lunch (pizza) in the Marina Mall, that looked like any other exclusive mall in the world, the historic Heritage Village (situated at the seashore, where we learned about the history of A.D.) and a short visit to the ultramodern theme park Ferrari World on Yas Island in the Eastern outskirts. We also made a short stop at the beautiful beach road Corniche, the guide van drew us fastly through Downtown, while I tried to make very fast snapshots of the skyscrapers and streetscenes, not a very easy task. Originally it was planned that we should go inside the so called "7 star" Emirates Palace Hotel, but that was cancelled because members of the royal family was there!
Read the whole article about my experience of Abu Dhabi, with many interesting facts on the bottom of this page:
http://www.worldtravelimages.net/Abu_Dhabi.html
_________________________________________________________________
DOWNTOWN ABU DHABI


Abu Dhabi's downtown is very modern with supertall skyscrapers, palaces, luxury hotels, malls and restaurant. Corniche Road is a long and beautiful road parallel to downtown situated along the shoreline of Corniche Lake. Our small tour bus from Dubai drew fastly through Cornjche Road without stopping, so I tried to make as many snapshots as possible to capture streets and architecture, but without really doing downtown justice.
Corniche Park, The Landmark (324m, 2013), WTC (background), Baynunah Hilton Tower (165m, tallest 1994-2002), seen from Corniche Road.
Capital Plaza from 2011 is a mixed use complex with offices, hotel (Sofitel) and residences. The postmodern/art deco architecture of the tallest tower resembles Empire State Building in New York.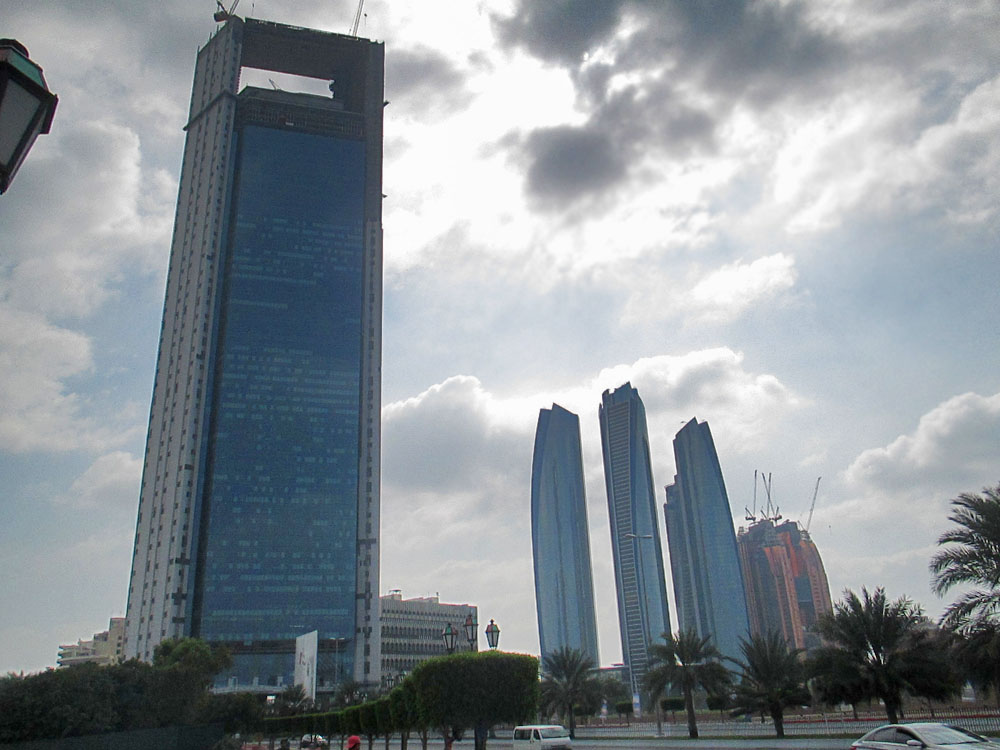 ADNOC Headquarters (342m, u/c, expected completion in 2014) Etihad Towers (five towers from 2011 up to 305m)
Etihad Towers, five glass towers from 2011 with hotels and offices. The tallest one is Tower2, 305m tall with 77 floors and an observation deck on the 75th floor. Tower 1 has a Jumeirah hotel. The bronze glass highrise to the right is Bab Al Qasr Hotel, under construction.
Nation Towers has the world's highest pedestrian bridge, even higher then the one at Petronas Towers, our guide told us. There is also a helicopter platform on the top of one of the towers. To the right is Hilton hotel, today one of the oldest modern buildings in Abu Dhabi.
You can read more and watch tons of pics from Downtown Abu Dhabi on the link below:
http://www.worldtravelimages.net/Abu_Dhabi.html