Registered User

Join Date: Aug 2002

Location: Toronto

Posts: 49,840
Designing the Floating Future
---
Designing the Floating Future
Oct 16, 2019
By Lindsey J. Smith
Read More:
https://www.citylab.com/environment/...future/600157/
Quote:
On an August day that is brutally hot by San Francisco's foggy standards, Margaret Ikeda and Evan Jones, architecture faculty at the California College of the Arts (CCA), are on one of the campus' back lots to present a vision of the future though at first glance, the object they're showing off doesn't look like much. It's white, roughly heart-shaped, and about the size of a sedan.

- As a prototype for what the underside of a floating building or possibly a whole floating community might look like, however, it represents years of imagination, research, design, and testing. It also represents the hopeful vision of Ikeda, Jones, and their CCA colleague Adam Marcus, who together developed the concept with an eye toward a future of flooding amid steadily rising seas particularly for the 10 percent of the world's population that lives in low-lying coastal areas. — Officially, it's called the Buoyant Ecologies Float Lab, and just a few weeks later, after a lengthy design and permitting process, the team moved the prototype to its new home in San Francisco Bay's chilly waters. The goal is to have it remain there, a few hundred feet offshore of Middle Harbor Shoreline Park in Oakland, for three years, by which time the team hopes to have proven its viability as a potential substrate for the futuristic and some critics of floating city models say misguided effort to move at least some communities displaced by climate change out onto the water.

- They also suggest that linking together floating structures like their prototype could help to make marine ecosystems healthier. It could also protect coastlines from further erosion in the near term, which will be crucial to places like the San Francisco Bay Area where large tracts of densely-populated land are expected to start sinking into the sea in the coming decades. Whether or not they're right, of course, remains to be seen, but Ikeda, Jones, and Marcus are eager to test their concept. "We want to show how floating artificial structures can coexist with living ecosystems," says Marcus. — And although they acknowledge the path from their current prototype to the design and construction of habitable buildings on the water may be long, they also say that if humanity isn't going to stop burning fossil fuels and heating up the planet, the time to start preparing workable adaptations that benefit both people and the natural environment is now.

.....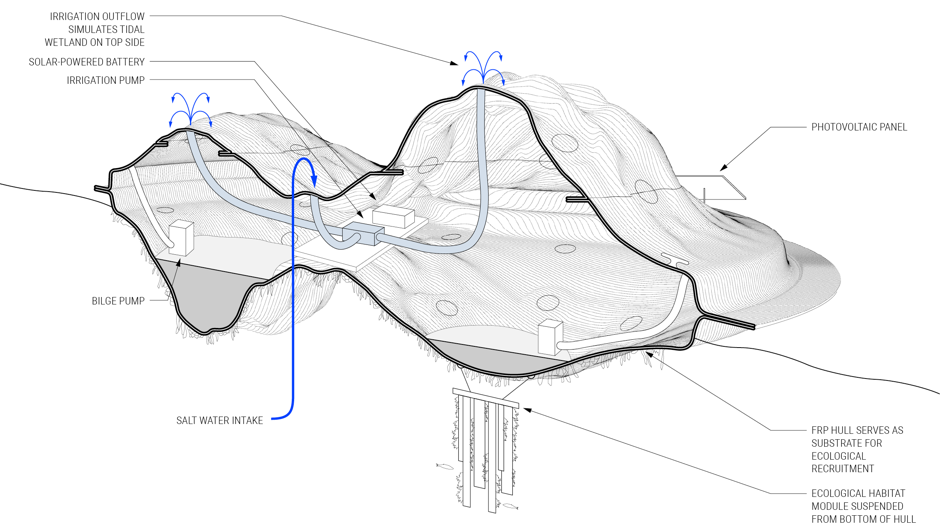 __________________
ASDFGHJK