I just got finished reading the Skyscraper Throne trilogy by Tom Pollock, which is an Urban Fantasy tale set in modern day London. It's quite interesting, with streetlight-people, living statues, and all manner of urban-animist beings. But they left out the skyscrapers. Sure, they're mentioned, but they don't get to do anything aside from what they always seem to do- eventually get their concrete butts kicked.
Another one I'm reading- the Towers Trilogy takes place in the far future, where magic is a thing, with towers floating above the ruins of an old city, fueled by magic and described as being grown in some fashion.
It seems that even in Urban Fantasy, there's a real lack of imagination where Skyscrapers are concerned. Trains, streetlights, small statues, even individual masonry bricks get souls and personalities, Skyscrapers just get face-punched.
Even in a magic-based society where the towers are described as being grown after a fashion, they don't get to do anything by themselves. It's frustrating.
Even in more mainstream entertainment, writers and artists have made kids (and adults as well) fall in love with trains (Shining Time Station and Thomas the Tank Engine and friends), Tugboats (Theodore Tugboat and Tugs), airplanes (Pixar's Planes), and cars (Cars, also by Pixar), and construction equipment (Bob the Builder) yet skyscrapers are almost always ignored. Even in Theodore Tugboat's world, where a suspension bridge, a container crane, an oil rig, and even a small dock all got to be characters, making appearances in various episodes. While the tugs were obviously the main characters, these other Big Harbor natives (repeat visitors in the oil rig's case) also had memorable parts to play. Yet the skyscrapers along the water's edge never got involved. It's a shame, because if done right, they might have made interesting characters.
I look at Pixar's movies, and I see skyscrapers in the background sometimes- NYC even exists in that universe, complete with JFK airport- we get to see it in Planes. You can tell someone's at home when you look at the towers, their lights are on. But who, since humans apparently aren't a thing there? If Pixar can make us love a plane or a car, is it that hard to make a skyscraper lovable? Some people I've talked to have mentioned the skyscraper-transformer toy from the movie "Big". To be honest, it kind of bugs me a little- sure, it's a skyscraper. But it was designed to be a failure, to be as lame and boring as possible. Surely, we can do better!
So when it comes to Urban Fantasy and pop culture in general, do you think Skyscrapers should get some love as well, getting to be something other than background scenery or getting facepunched by monsters/aliens/angry goddesses/natural disasters?
If so, what would you like to see them do, how might you depict them? Think we can do better than this?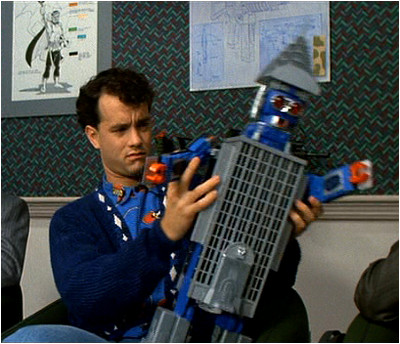 (Pic from i-mockery.com)